Blog

Handling Security Concerns with Janitorial Services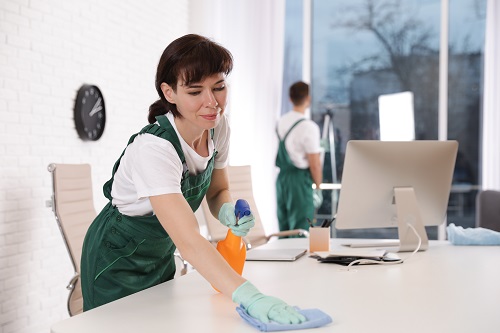 A clean and safe business environment draws customers and helps keep employees satisfied. As a business owner, you likely already know this, and that's why you're considering janitorial cleaning services in Oklahoma City. Hiring a janitorial service goes beyond how well their team cleans your business space. You also want to know how they address security concerns. Learn more about how commercial cleaning companies ensure security isn't something their clients ever need to stress over.
Detailed Employee Background Checks
At the minimum, a janitorial service should screen applicants thoroughly before extending the job offer. Screening usually includes a criminal background check. Most companies also verify previous employment and check personal references. For an additional layer of security, background checks may also include driving and motor vehicle records. Background checks help weed out applicants who pose a potential security risk for clients. When your janitorial service goes through the proper vetting process, it helps you have peace of mind about who will work on your business premises.
Intensive Security Training
Training janitorial staff on cleaning techniques is only one part of an effective training program. Of course, you want your cleaning team to have the hard skills needed to keep your building in tip-top shape, but make sure they've received training in safety and security protocols as well. Most businesses have specific rules in place for entering and exiting their building. You may need to provide your cleaning service with passcodes and keys. It's similar to giving people you don't know well the keys to your home. Cleaning companies that implement security training go a long way in earning the trust of their clients.
Is Your Janitorial Service Bonded and Insured?
When you begin your search, you'll likely ask first about janitorial cleaning rates. Don't forget to ask if they're bonded and insured. Liability insurance doesn't only protect the cleaning company, but it also protects you and your business. For example, if your janitorial service accidentally damages your business property, their insurance will cover the cost to repair or replace it. Bonding offers an even higher level of security for your business. A janitorial service bond protects your business from any misconduct on the part of your cleaning staff.
First Impressions Matter
When looking into janitorial cleaning solutions, consider a service that requires their team to dress the part. Uniforms help identify people as part of the team. You and your employees will recognize them as people who belong on the premises. Employee identification badges take security to the next step. Uniforms and badges show professionalism. Professionals typically pay close attention to reputation, which, in part, hinges on their concern about client security.
What Role Do You Play?
When you choose a company with an excellent reputation for janitorial office cleaning in Oklahoma City, you know you can depend on them to send reliable and trustworthy team members to your location. That said, there are things you can do to ensure everyone is on the same page when it comes to security. Communication is one of the most significant! Talk about your security expectations beforehand, especially if your business follows any out-of-the-ordinary security protocols. If you do experience concerns, work with your service to address them as soon as possible. When you work with Spic & Span Commercial Cleaning, LLC, you'll work with a company that puts security first. Contact us today at 405-330-1172 to learn more.